SystemsGo New Mexico
SystemsGo New Mexico & New Mexico Tech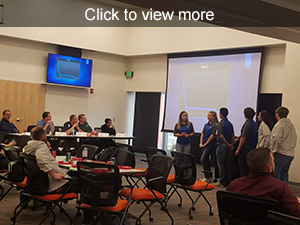 Wednesday, December 12, 2018, was an eventful day as SystemsGo New Mexico, in collaboration with New Mexico Tech, held a successful Oberth Review. Before the panel of engineers reviewed the flight patterns from eight New Mexico high school rocket teams, New Mexico Tech faculty and students put on a showcase for nearly 70 SystemsGo NM students.
High school rocket teams from Lake Arthur, Hobbs, Lovington, Loving, Jal, and Hagerman presented their flight profiles, which are calculations and graphs showing the flight pattern of their future rockets. Engineers Dr. Michael Hargather, Dr. Curtis O'Malley, Dr. Mustafa Hassanalian, and Mr. Josh Edwards made up the reviewing panel and critiqued the profiles, checking for consistency and safety.
Dr. Hargather commended the students on the level of mathematical intelligence the students displayed while presenting. These students and students from six other New Mexico high schools will launch their rockets on April 16 and 17, 2019, in Jal, New Mexico. For more information, please contact Dave Willden at 575.748.6100.
SystemsGo New Mexico and the 2018 Independent Living Youth Conference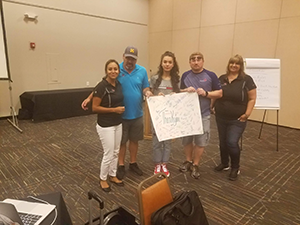 On August 1, 2018 in Taos, NM, Lake Arthur graduate and former SystemsGo New Mexico student, Jazmin Pando; Lake Arthur's SystemsGo NM teacher, Steven Goluska; and members of the Pecos Valley REC 8 traveled to Taos, New Mexico to present the art of rocket science to the group of teenagers attending the 2018 Independent Living Youth Conference.
SystemsGo New Mexico proudly accepted Senator Candice Guold's invitation to present the conference. The Independent Living Youth Conference is a conference held once a year for the fostered youth between the ages of 15 and 21. Jazmin Pando ran the participants through the Generation 1 Rocket stage of the program's Tsiolksovsy Level curriculum. In less than half a day, the young participants had assembled approximately 30 rockets and successfully launched them.
Students Present Rocket Flight Profile
When was the last time you attended a class where the students, teachers, and administrators were this interested at 7:30 at night? Our Aerospace Engineering II students, along with students from Lake Arthur and Loving, presented their flight profile for a rocket that they are designing that will go the speed of sound. The students created the flight profile entirely in Excel and presented the profile to a panel of engineers. The panel included David Roybal, civil engineer from Pettigrew; Marc Lumeyer, electrical engineer from Virgin Galactic; and led by Chris Madsen, aerospace engineer from NASA.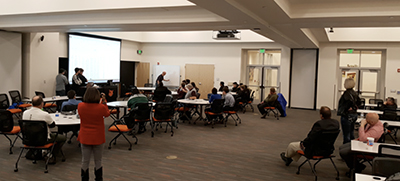 SystemsGo New Mexico Inaugural Rocket Launch Success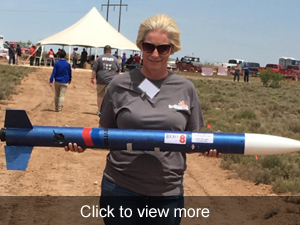 The SystemsGo New Mexico inaugural rocket launch was a huge success. Nearly 600 spectators came out to the Jal launch site to take part in the program's first launch and to support the students that engineered the rockets.
Ten rockets checked in and nine cleared safety regulations at stage two. All nine rockets made it down to the Discovery Education launch pad, and all nine rockets took flight. Jal's high school team was the first to launch their rocket. The excitement from the kids and the crowd was unexplainable.
Together teachers, students, principals, and superintendents shared in the enjoyment and success of seeing their school's rocket fly high into the air.
Next year's launch date is set to be on April 21, 2018.
If you are interested in bringing this program to your school, please contact Dave Willden at 575.748.6100.
This IS Rocket Science!
In August, five students from Lake Arthur High began an endeavor to become rocket scientists via the SystemsGo New Mexico Rocket Program. Students learned scientific techniques, technological application, engineering practices, and mathematical skills (STEM). Culminating in an understanding, the Jet Propulsion Lab at NASA would be proud of.
We encourage you to read this article in its entirety by Mr. Steve Goluska. He is the Systems Go teacher for Lake Arthur.
Program Intent
Improve education in America by inspiring students, teachers, and administrators within the present educational system. Motivate and equip high school students to develop 21st century skills and pursue careers in science, technology, engineering, and mathematics.
Aerospace Career Fair Expo 2016
On October 6, 2016, at the Holloman Air Force Base, SystemsGo New Mexico participated in the 2016 Aerospace Career Fair Expo put on by the New Mexico Aviation Aerospace Association. The career fair hosted middle school and high school students from the Las Cruces, Alamogordo, Ruidoso, and Cloudcroft areas. Congressman Steve Pearce spoke at the beginning of the career fair encouraging students to go into the professions of aviation and aerospace.